The 4-star Limerick Strand Hotel is hosting a wedding masterclass on Sunday the 22nd of September 22 and I along with with Ailbhe Garrihy and FMN Make Up will be there to bring you all through top tips when planning your wedding!
I will be your MC for the masterclass and I'll be bringing the best planning and beauty knowledge out of the wonderful panel of experts. Upon arrival, guests get a cheeky glass of prosecco or a gin reception. Once settled you will be treated to afternoon tea, prepared by multi-award-winning executive chef Tom Flavin.
Here's a little bit about the panel; Ailbhe Garrihy got engaged in December 2017 and has become famous in wedding circles for her insightful #WeddingWednesday tips and tricks from her own wedding planning journey.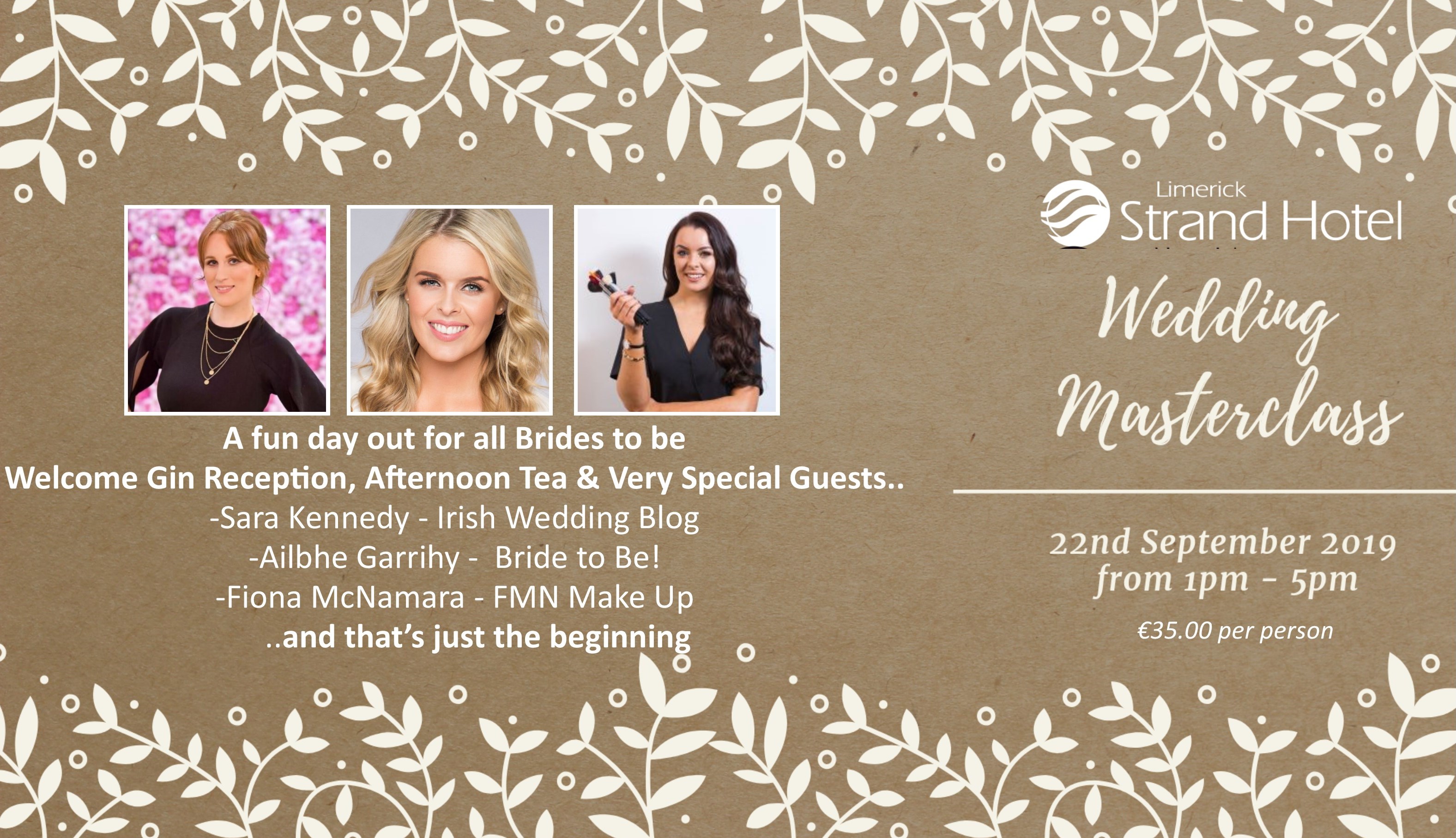 Fiona McNamara of FMN Makeup will be providing the makeup demo of the day. Fiona is well known for her amazing work and she works with Celia Holman Lee and SoSueMe. She is a bridal make up specialist and she is a fountain of knowledge on all things make up. I'm looking forward to picking her brain for sure!
Niall Colgan Hair Stylist has over 30 years experience in bridal hair and will be sharing tips and doing a live demo on the day.
I haven't had the chance to visit The Limerick Strand Hotel so I can't wait to see it and share a tour live on my social media on the day. I'm intrigued to see the secret garden! Grab the gang and make a day of it. C
Also brides that attend the event will receive an exclusive €1000 off any Strand wedding packages booked by Thursday, October 31, 2019, for weddings with a minimum of 120 guests and for selected dates in 2020 and 2021.
Get tickets to the Wedding Masterclass of the year here.
Comments are closed